# Access SAML
Security Assertion Markup (English: Security Assertion Markup Language, abbreviated as SAML, pronounced sam-el) is an XML-based open source standard data format that exchanges authentication and authorization data between parties, especially between identity providers and service providers. SAML 2.0 can realize single sign-on (SSO) based on network and cross domain, in order to reduce the management overhead of distributing multiple authentication tokens to a user.
# Introduction to SAML 2.0 Protocol
Before configuring SAML, understanding some basic concepts will be very helpful for subsequent configuration and debugging. It is strongly recommended to read this chapter.
# SAML body
In the SAML agreement, two subjects are involved:
Service Provider Service Provider, referred to as SP. What is a service provider? For example: Alibaba Cloud console, Tencent Cloud console, and AWS console are all service providers.
Identity Provider Identity Provider, referred to as IdP. What is an identity provider? Authing can be used as an identity provider. The identity provider can send an identity assertion to the SP. The so-called identity assertion is issued by Authing, which can identify a person's Token, but in In the SAML protocol, the format of this token is in XML format. There are other identity providers, such as Okta, SSOCircle, Auth0, and they can all return identity assertions to the SP.
The two subjects exchange information through the user's browser. In this way, the SP can return a redirected HTTP response with parameters, allowing the user to immediately send the information to the IdP through the parameters. The IdP will return a form, along with a JS code that immediately submits the form, so that the user can immediately send the information to the SP.
To sum up, SP provides services and needs to know the identity of the user, so it needs to ask the IdP. The IdP knows the user's identity. When the user successfully logs in to the IdP, the IdP will send the user's identity to the SP in the form of SAML assertion. The SP trusts the identity assertion sent by the IdP, thereby granting the user relevant rights in the SP.
# SAML Request
When the user's identity cannot be authenticated, the SP will send a SAML Request message (sent through the browser) to the IdP, requesting the IdP to authenticate the user's identity.
The form of a SAML Request initiated by Alibaba Cloud Console is as follows:
GET https://core.authing.cn/v2/api/saml-idp/5e10927e4ecfd464fb4edaf6?SAMLRequest=fZJLT%2BMwFIX3%2FIrI%2B7yct9Wk6kyFQGJERQKL2RnnJnWV2Blfp2L%2BPaGlDLOApaV7vnN0jlfrl3FwjmBQalWS0AuIA0roVqq%2BJI%2FNtZuTdXW1Qj4OdGKb2e7VA%2FyZAa2zQQRjF91PrXAewdRgjlLA48NdSfbWTsh8H2WvpPL4IP%2FOyhN69N9Qfl3fE2e7UKTi9mR9EQhtwOOLz5LAE8o%2FUp9P8qRyZTv5CYRBQTOIQXRtnMbdcwwt71LiXGsj4JSwJB0fEIhzuy0Jp9AXgvaHgwzzPA%2FjfXagbRYlebeP%2BmI5wh1HlEf4J0Oc4Vah5cqWhAY0cIPCpXkTRiwoWJJ5eZH%2BJs7OaKuFHn5IdS5sNoppjhKZ4iMgs4LVm193jHoBez4fIbtpmp27u68b4jxdiqdvxS9TKGTnqr9nTe%2FGpDovw06JzWfC9wB %2B2Y5UXy8VRlmcpkWUpUlGY5p8TLfyP7tW78%2F%2Fv0f1Cg%3D%3D

SAMLRequest parameter is sent to IdP in URL via query, the content of SAMLRequest is as follows:
fZJLT + MwFIX3 / IrI + 7yct9Wk6kyFQGJERQKL2RnnJnWV2Blfp2L + PaGlDLOApaV7vnN0jlfrl3FwjmBQalWS0AuIA0roVqq + JI / NtZuTdXW1Qj4OdGKb2e7VA / yZAa2zQQRjF91PrXAewdRgjlLA48NdSfbWTsh8H2WvpPL4IP / OyhN69N9Qfl3fE2e7UKTi9mR9EQhtwOOLz5LAE8o / Up9P8qRyZTv5CYRBQTOIQXRtnMbdcwwt71LiXGsj4JSwJB0fEIhzuy0Jp9AXgvaHgwzzPA / jfXagbRYlebeP + mI5wh1HlEf4J0Oc4Vah5cqWhAY0cIPCpXkTRiwoWJJ5eZH + Js7OaKuFHn5IdS5sNoppjhKZ4iMgs4LVm193jHoBez4fIbtpmp27u68b4jxdiqdvxS9TKGTnqr9nTe / GpDovw06JzWfC9wB + 2Y5UXy8VRlmcpkWUpUlGY5p8TLfyP7tW78 // v0f1Cg ==

base64 decode + inflate decode (opens new window) after
<?xml version="1.0" encoding="UTF-8"?>




<

saml2p:

AuthnRequest 

AssertionConsumerServiceURL

=

"

https://signin.aliyun.com/saml/SSO

"

 

Destination

=

"

https://core.authing.cn/v2/api/saml-idp/5e10927e4ecfd464fb4edaf6

"

 

ForceAuthn

=

"

false

"

 

ID

 

=

"

a2eg9c2gjji188814h7j2d7358fh3g9

"

 

IsPassive

=

"

false

"

 

IssueInstant

=

"

2020-09-28T13:09:57.896Z

"

 

ProtocolBinding

=

"

urn:oasis:names:tc:SAML:2.0:bindings:HTTP-POST

"

 

Version

=

"

2.0

"




xmlns:

saml2p

=

"

urn:oasis:names:tc:SAML:2.0:protocol

"

>




<

saml2:

Issuer


xmlns:

saml2

=

"

urn:oasis:names:tc:SAML:2.0:assertion

"

>

https://signin.aliyun.com/1374669376572425/saml/SSO


</

saml2:

Issuer

>




</

saml2p:

AuthnRequest

>



# SAML Response
After the IdP receives the SAML Request, a login box will pop up to authenticate the user: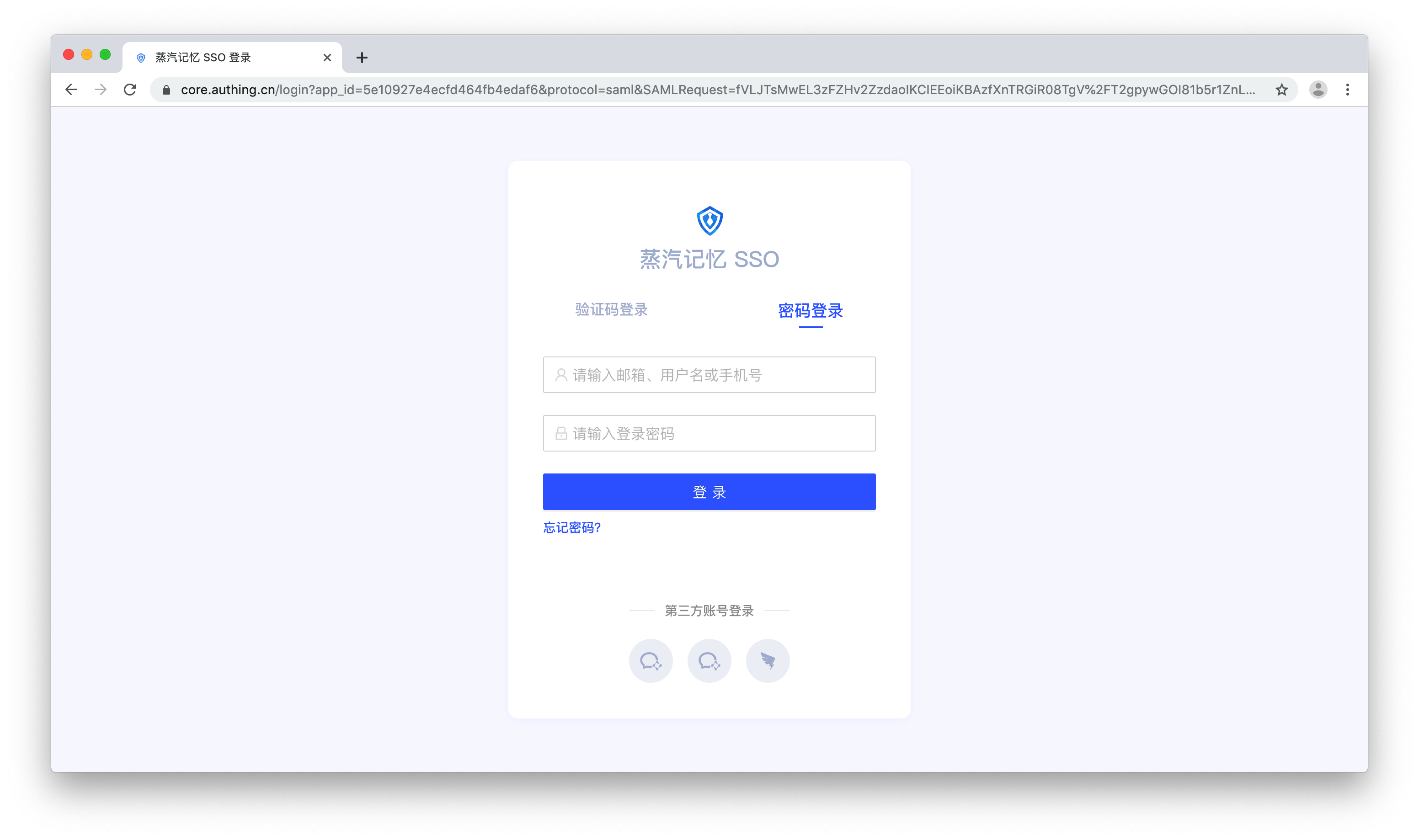 After the user logs in at the IdP, the SAML IdP sends the user identity assertion to the SP (placed in the form and sent through the browser POST request). The response content of the SAML IdP is as follows:
<

form
  

id

=

"

saml-form

"


  

method

=

"

post

"


  

action

=

"

https://signin.aliyun.com/saml/SSO

"


  

autocomplete

=

"

off

"




>


  

<

input
    

type

=

"

hidden

"


    

name

=

"

SAMLResponse

"


    

id

=

"

saml-response

"


    

value

=

"

PHNhbWxwOlJlc3BvbnNlIHhtbG5zOnNhbWxwPSJ1cm46b2FzaXM6bmFtZXM6dGM6U0FNTDoyLjA6cHJvdG9jb2wiIHhtbG5zOnNhbWw9InVybjpvYXNpczpuYW1lczp0YzpTQU1MOjIuMDphc3NlcnRpb24iIElEPSJfNjJiMTc3YzEtYTkxOS00MmY2LTk1ODYtNDdmMTNiNzEwODFmIiBWZXJzaW9uPSIyLjAiIElzc3VlSW5zdGFudD0iMjAyMC0wOS0yOFQxMzozMDozMS43ODhaIiBEZXN0aW5hdGlvbj0iaHR0cHM6Ly9zaWduaW4uYWxpeXVuLmNvbS9zYW1sL1NTTyIgSW5SZXNwb25zZVRvPSJhNDlmOGVkaTMxY2owYTJhNDU5ZzAzMzFjM2Q5YzEwIj4KICA8c2FtbDpJc3N1ZXI + aHR0cHM6Ly8yMG5xdWx2b3FwYnAuYXV0aGluZy5jbjwvc2FtbDpJc3N1ZXI + CiAgPHNhbWxwOlN0YXR1cz4KICAgIDxzYW1scDpTdGF0dXNDb2RlIFZhbHVlPSJ1cm46b2FzaXM6bmFtZXM6dGM6U0FNTDoyLjA6c3RhdHVzOlN1Y2Nlc3MiLz4KICA8L3NhbWxwOlN0YXR1cz4KICA8c2FtbDpBc3NlcnRpb24geG1sbnM6eHNpPSJodHRwOi8vd3d3LnczLm9yZy8yMDAxL1hNTFNjaGVtYS1pbnN0YW5jZSIgeG1sbnM6eHM9Imh0dHA6Ly93d3cudzMub3JnLzIwMDEvWE1MU2NoZW1hIiB4bWxuczpzYW1sPSJ1cm46b2FzaXM6bmFtZXM6dGM6U0FNTDoyLjA6YXNzZXJ0aW9uIiBJRD0iX2ZhZTk1YjQ3LWNiZjMtNGEyMC1hZGQwLTk5ZDg1NmI0MTI0ZSIgVmVyc2lvbj0iMi4wIiBJc3N1ZUluc3RhbnQ9IjIwMjAtMDktMjhUMTM6MzA6MzEuNzg4W iI + CiAgICA8c2FtbDpJc3N1ZXI + aHR0cHM6Ly8yMG5xdWx2b3FwYnAuYXV0aGluZy5jbjwvc2FtbDpJc3N1ZXI + PGRzOlNpZ25hdHVyZSB4bWxuczpkcz0iaHR0cDovL3d3dy53My5vcmcvMjAwMC8wOS94bWxkc2lnIyI + PGRzOlNpZ25lZEluZm8 + PGRzOkNhbm9uaWNhbGl6YXRpb25NZXRob2QgQWxnb3JpdGhtPSJodHRwOi8vd3d3LnczLm9yZy8yMDAxLzEwL3htbC1leGMtYzE0biMiLz48ZHM6U2lnbmF0dXJlTWV0aG9kIEFsZ29yaXRobT0iaHR0cDovL3d3dy53My5vcmcvMjAwMC8wOS94bWxkc2lnI3JzYS1zaGExIi8 + PGRzOlJlZmVyZW5jZSBVUkk9IiNfZmFlOTViNDctY2JmMy00YTIwLWFkZDAtOTlkODU2YjQxMjRlIj48ZHM6VHJhbnNmb3Jtcz48ZHM6VHJhbnNmb3JtIEFsZ29yaXRobT0iaHR0cDovL3d3dy53My5vcmcvMjAwMC8wOS94bWxkc2lnI2VudmVsb3BlZC1zaWduYXR1cmUiLz48ZHM6VHJhbnNmb3JtIEFsZ29yaXRobT0iaHR0cDovL3d3dy53My5vcmcvMjAwMS8xMC94bWwtZXhjLWMxNG4jIi8 + PC9kczpUcmFuc2Zvcm1zPjxkczpEaWdlc3RNZXRob2QgQWxnb3JpdGhtPSJodHRwOi8vd3d3LnczLm9yZy8yMDAwLzA5L3htbGRzaWcjc2hhMSIvPjxkczpEaWdlc3RWYWx1ZT4vb2w2bEMxaitzbWRvbmw0OCtsSlR6VWVxbnc9PC9kczpEaWdlc3RWYWx1ZT48L2RzOlJlZmVyZW5jZT48L2RzOlNpZ25lZEluZm8+PGRzOlNpZ25hdHVyZVZhbHVlPmF3emNFMGRwOEJ6VFc0YjRQRmFSWDdOS09DOTViTHFPblBlQUtJL0NzRGZHYUpkbXpDSzBmVmxpeitlNlh6Qmx1S2ZCcFF0clFvbktsN2sydlZOYVBGeDlQcFNWendLOTFITEd2WVEwcUIzNnVBNEhGdm0vM00zMURMM1pSRlBScTY4WmFWQUc2bE1WZDBZYmlJblZ2OUZXd3NpKzZqRXBGK1BSbG1rb3FBST08L2RzOlNpZ25hdHVyZVZhbHVlPjxkczpLZXlJbmZvPjxkczpYNTA5RGF0YT48ZHM6WDUwOUNlcnRpZmljYXRlPk1JSUNRakNDQWF1Z0F3SUJBZ0lCQURBTkJna3Foa2lHOXcwQkFRMEZBREErTVFzd0NRWURWUVFHRXdKMWN6RVNNQkFHQTFVRUNBd0o1THFMNWE2ZTVMaUtNUXd3Q2dZRFZRUUtEQU56YzNNeERUQUxCZ05WQkFNTUJITnpjM013SGhjTk1qQXdNVEF6TVRNeE9ERTBXaGNOTWpFd01UQXlNVE14T0RFMFdqQStNUXN3Q1FZRFZRUUdFd0oxY3pFU01CQUdBMVVFQ0F3SjVMcUw1YTZlNUxpS01Rd3dDZ1lEVlFRS0RBTnpjM014RFRBTEJnTlZCQU1NQkhOemMzTXdnWjh3RFFZSktvWklodmNOQVFFQkJRQURnWTBBTUlHSkFvR0JBTU5XbE1rNEwrVGNXd3lkOXBsVFBMaEhML1VNQ1BHSmd2NVZwOHZhQXA0V01zR3R3T0xJMVVOV2NjSXFNZVUwS2FzSnFyS3hIWXZxOUp6Wmg0ZmZ0Rm1vd0J6MzZ2ejBlSVVzUDVQS3ZGVUxrQzF2anJkbitRSlhiSjUxYWxaWktmUGdsMUhJOHc2bGgxMmFXVGphS1ErS2VtSXR0cUxxSmdMV09ZQVhQSXN6QWdNQkFBR2pVREJPTUIwR0ExVWREZ1FXQkJUVDEwNGhWWVZuUHBnN2FGckRpWFBTaGJ0eFVUQWZCZ05WSFNNRUdEQVdnQlRUMTA0aFZZVm5QcGc3YUZyRGlYUFNoYnR4VVRBTUJnTlZIUk1FQlRBREFRSC9NQTBHQ1NxR1NJYjNEUUVCRFFVQUE0R0JBQjYrMXhLN0dNSmE1TTZVamcvd2Q0RXR3eThOZFRGNnlwU3FOMzZCZDVPZFBtd1U5SHpEdUdqS2kzWndvb1BJR1JCOHBpTHNLazExTTRJaEFGNEMyUi9Kc3ZWWXdXT1lnb2pXNEgxaFI1d2syam43cGx0V3FSUGRmWkJsMFlmc0R5c1VQN2s4L01jaE9XWDdXaWZOeHBlM0dkU0tOMTdDa2RSakw5MjRiVjBsPC9kczpYNTA5Q2VydGlmaWNhdGU+PC9kczpYNTA5RGF0YT48L2RzOktleUluZm8+PC9kczpTaWduYXR1cmU+CiAgICA8c2FtbDpTdWJqZWN0PgogICAgICA8c2FtbDpOYW1lSUQgRm9ybWF0PSJ1cm46b2FzaXM6bmFtZXM6dGM6U0FNTDoxLjE6bmFtZWlkLWZvcm1hdDp1bnNwZWNpZmllZCI+eWV6dXdlaUBhdXRoaW5nLm9uYWxpeXVuLmNvbTwvc2FtbDpOYW1lSUQ+CiAgICAgIDxzYW1sOlN1YmplY3RDb25maXJtYXRpb24gTWV0aG9kPSJ1cm46b2FzaXM6bmFtZXM6dGM6U0FNTDoyLjA6Y206YmVhcmVyIj4KICAgICAgICA8c2FtbDpTdWJqZWN0Q29uZmlybWF0aW9uRGF0YSBOb3RPbk9yQWZ0ZXI9IjIwMjAtMDktMjhUMTQ6MzA6MzEuNzg4WiIgUmVjaXBpZW50PSJodHRwczovL3NpZ25pbi5hbGl5dW4uY29tL3NhbWwvU1NPIiBJblJlc3BvbnNlVG89ImE0OWY4ZWRpMzFjajBhMmE0NTlnMDMzMWMzZDljMTAiLz4KICAgICAgPC9zYW1sOlN1YmplY3RDb25maXJtYXRpb24+CiAgICA8L3NhbWw6U3ViamVjdD4KICAgIDxzYW1sOkNvbmRpdGlvbnMgTm90QmVmb3JlPSIyMDIwLTA5LTI4VDEzOjMwOjMxLjc4OFoiIE5vdE9uT3JBZnRlcj0iMjAyMC0wOS0yOFQxNDozMDozMS43ODhaIj4KICAgICAgPHNhbWw6QXVkaWVuY2VSZXN0cmljdGlvbj4KICAgICAgICA8c2FtbDpBdWRpZW5jZT5odHRwczovL3NpZ25pbi5hbGl5dW4uY29tLzEzNzQ2NjkzNzY1NzI0MjUvc2FtbC9TU088L3NhbWw6QXVkaWVuY2U+CiAgICAgIDwvc2FtbDpBdWRpZW5jZVJlc3RyaWN0aW9uPgogICAgPC9zYW1sOkNvbmRpdGlvbnM+PHNhbWw6QXV0aG5TdGF0ZW1lbnQgQXV0aG5JbnN0YW50PSIyMDIwLTA5LTI4VDEzOjMwOjMxLjg4OFoiIFNlc3Npb25JbmRleD0ib29ldW1jcTZlSGpkZHIxSDNGeXpvdTdDcy1PR1RzTmwiPjxzYW1sOkF1dGhuQ29udGV4dD48c2FtbDpBdXRobkNvbnRleHRDbGFzc1JlZj51cm46b2FzaXM6bmFtZXM6dGM6U0FNTDoyLjA6YWM6Y2xhc3Nlczp1bnNwZWNpZmllZDwvc2FtbDpBdXRobkNvbnRleHRDbGFzc1JlZj48L3NhbWw6QXV0aG5Db250ZXh0Pjwvc2FtbDpBdXRoblN0YXRlbWVudD48c2FtbDpBdHRyaWJ1dGVTdGF0ZW1lbnQ+PHNhbWw6QXR0cmlidXRlIE5hbWU9ImVtYWlsIiBOYW1lRm9ybWF0PSJ1cm46b2FzaXM6bmFtZXM6dGM6U0FNTDoyLjA6YXR0cm5hbWUtZm9ybWF0OmJhc2ljIj48c2FtbDpBdHRyaWJ1dGVWYWx1ZSB4bWxuczp4cz0iaHR0cDovL3d3dy53My5vcmcvMjAwMS9YTUxTY2hlbWEiIHhtbG5zOnhzaT0iaHR0cDovL3d3dy53My5vcmcvMjAwMS9YTUxTY2hlbWEtaW5zdGFuY2UiIHhzaTp0eXBlPSJ4czpzdHJpbmciPnllenV3ZWlAYXV0aGluZy5jbjwvc2FtbDpBdHRyaWJ1dGVWYWx1ZT48L3NhbWw6QXR0cmlidXRlPjxzYW1sOkF0dHJpYnV0ZSBOYW1lPSJuYW1lIiBOYW1lRm9ybWF0PSJ1cm46b2FzaXM6bmFtZXM6dGM6U0FNTDoyLjA6YXR0cm5hbWUtZm9ybWF0OmJhc2ljIj48c2FtbDpBdHRyaWJ1dGVWYWx1ZSB4bWxuczp4cz0iaHR0cDovL3d3dy53My5vcmcvMjAwMS9YTUxTY2hlbWEiIHhtbG5zOnhzaT0iaHR0cDovL3d3dy53My5vcmcvMjAwMS9YTUxTY2hlbWEtaW5zdGFuY2UiIHhzaTp0eXBlPSJ4czpzdHJpbmciLz48L3NhbWw6QXR0cmlidXRlPjxzYW1sOkF0dHJpYnV0ZSBOYW1lPSJ1c2VybmFtZSIgTmFtZUZvcm1hdD0idXJuOm9hc2lzOm5hbWVzOnRjOlNBTUw6Mi4wOmF0dHJuYW1lLWZvcm1hdDpiYXNpYyI+PHNhbWw6QXR0cmlidXRlVmFsdWUgeG1sbnM6eHM9Imh0dHA6Ly93d3cudzMub3JnLzIwMDEvWE1MU2NoZW1hIiB4bWxuczp4c2k9Imh0dHA6Ly93d3cudzMub3JnLzIwMDEvWE1MU2NoZW1hLWluc3RhbmNlIiB4c2k6dHlwZT0ieHM6c3RyaW5nIj55ZXp1d2VpQGF1dGhpbmcuY248L3NhbWw6QXR0cmlidXRlVmFsdWU+PC9zYW1sOkF0dHJpYnV0ZT48c2FtbDpBdHRyaWJ1dGUgTmFtZT0icGhvbmUiIE5hbWVGb3JtYXQ9InVybjpvYXNpczpuYW1lczp0YzpTQU1MOjIuMDphdHRybmFtZS1mb3JtYXQ6YmFzaWMiPjxzYW1sOkF0dHJpYnV0ZVZhbHVlIHhtbG5zOnhzPSJodHRwOi8vd3d3LnczLm9yZy8yMDAxL1hNTFNjaGVtYSIgeG1sbnM6eHNpPSJodHRwOi8vd3d3LnczLm9yZy8yMDAxL1hNTFNjaGVtYS1pbnN0YW5jZSIgeHNpOnR5cGU9InhzOnN0cmluZyI+bnVsbDwvc2FtbDpBdHRyaWJ1dGVWYWx1ZT48L3NhbWw6QXR0cmlidXRlPjwvc2FtbDpBdHRyaWJ1dGVTdGF0ZW1lbnQ+PC9zYW1sOkFzc2VydGlvbj4KPC9zYW1scDpSZXNwb25zZT4=

"


  

/>


  

<

input 

type

=

"

hidden

"

 

name

=

"

RelayState

"

 

id

=

"

relay-state

"

 

value

=

"

"

 

/>




</

form

>




<

script 

type

=

"

text/javascript

"

>


  

(

function

(

)

 

{


    document

.

forms

[

0

]

.

submit

(

)

;


  

}

)

(

)

;




</

script

>



There is no mystery, but an HTML form and a piece of JS code to submit the form immediately. The SAML Response information is as follows:
PHNhbWxwOlJlc3BvbnNlIHhtbG5zOnNhbWxwPSJ1cm46b2FzaXM6bmFtZXM6dGM6U0FNTDoyLjA6cHJvdG9jb2wiIHhtbG5zOnNhbWw9InVybjpvYXNpczpuYW1lczp0YzpTQU1MOjIuMDphc3NlcnRpb24iIElEPSJfNjJiMTc3YzEtYTkxOS00MmY2LTk1ODYtNDdmMTNiNzEwODFmIiBWZXJzaW9uPSIyLjAiIElzc3VlSW5zdGFudD0iMjAyMC0wOS0yOFQxMzozMDozMS43ODhaIiBEZXN0aW5hdGlvbj0iaHR0cHM6Ly9zaWduaW4uYWxpeXVuLmNvbS9zYW1sL1NTTyIgSW5SZXNwb25zZVRvPSJhNDlmOGVkaTMxY2owYTJhNDU5ZzAzMzFjM2Q5YzEwIj4KICA8c2FtbDpJc3N1ZXI + aHR0cHM6Ly8yMG5xdWx2b3FwYnAuYXV0aGluZy5jbjwvc2FtbDpJc3N1ZXI + CiAgPHNhbWxwOlN0YXR1cz4KICAgIDxzYW1scDpTdGF0dXNDb2RlIFZhbHVlPSJ1cm46b2FzaXM6bmFtZXM6dGM6U0FNTDoyLjA6c3RhdHVzOlN1Y2Nlc3MiLz4KICA8L3NhbWxwOlN0YXR1cz4KICA8c2FtbDpBc3NlcnRpb24geG1sbnM6eHNpPSJodHRwOi8vd3d3LnczLm9yZy8yMDAxL1hNTFNjaGVtYS1pbnN0YW5jZSIgeG1sbnM6eHM9Imh0dHA6Ly93d3cudzMub3JnLzIwMDEvWE1MU2NoZW1hIiB4bWxuczpzYW1sPSJ1cm46b2FzaXM6bmFtZXM6dGM6U0FNTDoyLjA6YXNzZXJ0aW9uIiBJRD0iX2ZhZTk1YjQ3LWNiZjMtNGEyMC1hZGQwLTk5ZDg1NmI0MTI0ZSIgVmVyc2lvbj0iMi4wIiBJc3N1ZUluc3RhbnQ9IjIwMjAtMDktMjhUMTM6MzA6MzEuNzg4WiI + CiAg ICA8c2FtbDpJc3N1ZXI + aHR0cHM6Ly8yMG5xdWx2b3FwYnAuYXV0aGluZy5jbjwvc2FtbDpJc3N1ZXI + PGRzOlNpZ25hdHVyZSB4bWxuczpkcz0iaHR0cDovL3d3dy53My5vcmcvMjAwMC8wOS94bWxkc2lnIyI + PGRzOlNpZ25lZEluZm8 + PGRzOkNhbm9uaWNhbGl6YXRpb25NZXRob2QgQWxnb3JpdGhtPSJodHRwOi8vd3d3LnczLm9yZy8yMDAxLzEwL3htbC1leGMtYzE0biMiLz48ZHM6U2lnbmF0dXJlTWV0aG9kIEFsZ29yaXRobT0iaHR0cDovL3d3dy53My5vcmcvMjAwMC8wOS94bWxkc2lnI3JzYS1zaGExIi8 + PGRzOlJlZmVyZW5jZSBVUkk9IiNfZmFlOTViNDctY2JmMy00YTIwLWFkZDAtOTlkODU2YjQxMjRlIj48ZHM6VHJhbnNmb3Jtcz48ZHM6VHJhbnNmb3JtIEFsZ29yaXRobT0iaHR0cDovL3d3dy53My5vcmcvMjAwMC8wOS94bWxkc2lnI2VudmVsb3BlZC1zaWduYXR1cmUiLz48ZHM6VHJhbnNmb3JtIEFsZ29yaXRobT0iaHR0cDovL3d3dy53My5vcmcvMjAwMS8xMC94bWwtZXhjLWMxNG4jIi8 + PC9kczpUcmFuc2Zvcm1zPjxkczpEaWdlc3RNZXRob2QgQWxnb3JpdGhtPSJodHRwOi8vd3d3LnczLm9yZy8yMDAwLzA5L3htbGRzaWcjc2hhMSIvPjxkczpEaWdlc3RWYWx1ZT4vb2w2bEMxaitzbWRvbmw0OCtsSlR6VWVxbnc9PC9kczpEaWdlc3RWYWx1ZT48L2RzOlJlZmVyZW5jZT48L2RzOlNpZ25lZEluZm8 + PGRzOlNpZ25hdHVyZVZhbHVlPmF3emNFMGRwOEJ6VFc0YjRQRmFSWDdOS09DOTViTHFPblBlQUtJL0Nz RGZHYUpkbXpDSzBmVmxpeitlNlh6Qmx1S2ZCcFF0clFvbktsN2sydlZOYVBGeDlQcFNWendLOTFITEd2WVEwcUIzNnVBNEhGdm0vM00zMURMM1pSRlBScTY4WmFWQUc2bE1WZDBZYmlJblZ2OUZXd3NpKzZqRXBGK1BSbG1rb3FBST08L2RzOlNpZ25hdHVyZVZhbHVlPjxkczpLZXlJbmZvPjxkczpYNTA5RGF0YT48ZHM6WDUwOUNlcnRpZmljYXRlPk1JSUNRakNDQWF1Z0F3SUJBZ0lCQURBTkJna3Foa2lHOXcwQkFRMEZBREErTVFzd0NRWURWUVFHRXdKMWN6RVNNQkFHQTFVRUNBd0o1THFMNWE2ZTVMaUtNUXd3Q2dZRFZRUUtEQU56YzNNeERUQUxCZ05WQkFNTUJITnpjM013SGhjTk1qQXdNVEF6TVRNeE9ERTBXaGNOTWpFd01UQXlNVE14T0RFMFdqQStNUXN3Q1FZRFZRUUdFd0oxY3pFU01CQUdBMVVFQ0F3SjVMcUw1YTZlNUxpS01Rd3dDZ1lEVlFRS0RBTnpjM014RFRBTEJnTlZCQU1NQkhOemMzTXdnWjh3RFFZSktvWklodmNOQVFFQkJRQURnWTBBTUlHSkFvR0JBTU5XbE1rNEwrVGNXd3lkOXBsVFBMaEhML1VNQ1BHSmd2NVZwOHZhQXA0V01zR3R3T0xJMVVOV2NjSXFNZVUwS2FzSnFyS3hIWXZxOUp6Wmg0ZmZ0Rm1vd0J6MzZ2ejBlSVVzUDVQS3ZGVUxrQzF2anJkbitRSlhiSjUxYWxaWktmUGdsMUhJOHc2bGgxMmFXVGphS1ErS2VtSXR0cUxxSmdMV09ZQVhQSXN6QWdNQkFBR2pVREJPTUIwR0ExVWREZ1FXQkJUVDEwNGhWWVZuUHBnN2FGckRpWFBTaGJ0eFVUQWZCZ05WSFNNRUdEQVdnQlRUMTA0aFZZVm5QcGc3YUZyRGlY UFNoYnR4VVRBTUJnTlZIUk1FQlRBREFRSC9NQTBHQ1NxR1NJYjNEUUVCRFFVQUE0R0JBQjYrMXhLN0dNSmE1TTZVamcvd2Q0RXR3eThOZFRGNnlwU3FOMzZCZDVPZFBtd1U5SHpEdUdqS2kzWndvb1BJR1JCOHBpTHNLazExTTRJaEFGNEMyUi9Kc3ZWWXdXT1lnb2pXNEgxaFI1d2syam43cGx0V3FSUGRmWkJsMFlmc0R5c1VQN2s4L01jaE9XWDdXaWZOeHBlM0dkU0tOMTdDa2RSakw5MjRiVjBsPC9kczpYNTA5Q2VydGlmaWNhdGU + PC9kczpYNTA5RGF0YT48L2RzOktleUluZm8 + PC9kczpTaWduYXR1cmU + CiAgICA8c2FtbDpTdWJqZWN0PgogICAgICA8c2FtbDpOYW1lSUQgRm9ybWF0PSJ1cm46b2FzaXM6bmFtZXM6dGM6U0FNTDoxLjE6bmFtZWlkLWZvcm1hdDp1bnNwZWNpZmllZCI + eWV6dXdlaUBhdXRoaW5nLm9uYWxpeXVuLmNvbTwvc2FtbDpOYW1lSUQ + CiAgICAgIDxzYW1sOlN1YmplY3RDb25maXJtYXRpb24gTWV0aG9kPSJ1cm46b2FzaXM6bmFtZXM6dGM6U0FNTDoyLjA6Y206YmVhcmVyIj4KICAgICAgICA8c2FtbDpTdWJqZWN0Q29uZmlybWF0aW9uRGF0YSBOb3RPbk9yQWZ0ZXI9IjIwMjAtMDktMjhUMTQ6MzA6MzEuNzg4WiIgUmVjaXBpZW50PSJodHRwczovL3NpZ25pbi5hbGl5dW4uY29tL3NhbWwvU1NPIiBJblJlc3BvbnNlVG89ImE0OWY4ZWRpMzFjajBhMmE0NTlnMDMzMWMzZDljMTAiLz4KICAgICAgPC9zYW1sOlN1YmplY3RDb25maXJtYXRpb24 + CiAgICA8L3NhbWw6U3ViamVjdD4KICAgIDxzYW1sOkNv bmRpdGlvbnMgTm90QmVmb3JlPSIyMDIwLTA5LTI4VDEzOjMwOjMxLjc4OFoiIE5vdE9uT3JBZnRlcj0iMjAyMC0wOS0yOFQxNDozMDozMS43ODhaIj4KICAgICAgPHNhbWw6QXVkaWVuY2VSZXN0cmljdGlvbj4KICAgICAgICA8c2FtbDpBdWRpZW5jZT5odHRwczovL3NpZ25pbi5hbGl5dW4uY29tLzEzNzQ2NjkzNzY1NzI0MjUvc2FtbC9TU088L3NhbWw6QXVkaWVuY2U + CiAgICAgIDwvc2FtbDpBdWRpZW5jZVJlc3RyaWN0aW9uPgogICAgPC9zYW1sOkNvbmRpdGlvbnM + PHNhbWw6QXV0aG5TdGF0ZW1lbnQgQXV0aG5JbnN0YW50PSIyMDIwLTA5LTI4VDEzOjMwOjMxLjg4OFoiIFNlc3Npb25JbmRleD0ib29ldW1jcTZlSGpkZHIxSDNGeXpvdTdDcy1PR1RzTmwiPjxzYW1sOkF1dGhuQ29udGV4dD48c2FtbDpBdXRobkNvbnRleHRDbGFzc1JlZj51cm46b2FzaXM6bmFtZXM6dGM6U0FNTDoyLjA6YWM6Y2xhc3Nlczp1bnNwZWNpZmllZDwvc2FtbDpBdXRobkNvbnRleHRDbGFzc1JlZj48L3NhbWw6QXV0aG5Db250ZXh0Pjwvc2FtbDpBdXRoblN0YXRlbWVudD48c2FtbDpBdHRyaWJ1dGVTdGF0ZW1lbnQ + PHNhbWw6QXR0cmlidXRlIE5hbWU9ImVtYWlsIiBOYW1lRm9ybWF0PSJ1cm46b2FzaXM6bmFtZXM6dGM6U0FNTDoyLjA6YXR0cm5hbWUtZm9ybWF0OmJhc2ljIj48c2FtbDpBdHRyaWJ1dGVWYWx1ZSB4bWxuczp4cz0iaHR0cDovL3d3dy53My5vcmcvMjAwMS9YTUxTY2hlbWEiIHhtbG5zOnhzaT0iaHR0cDovL3d3dy53My5vcmcvMjAwMS9YTUxTY2hlbWEtaW5zdGFuY2UiIHhzaTp0eXBlPSJ4czpzdHJpbmciPnllenV3ZWlAYXV0aGluZy5jbjwvc2FtbDpBdHRyaWJ1dGVWYWx1ZT48L3NhbWw6QXR0cmlidXRlPjxzYW1sOkF0dHJpYnV0ZSBOYW1lPSJuYW1lIiBOYW1lRm9ybWF0PSJ1cm46b2FzaXM6bmFtZXM6dGM6U0FNTDoyLjA6YXR0cm5hbWUtZm9ybWF0OmJhc2ljIj48c2FtbDpBdHRyaWJ1dGVWYWx1ZSB4bWxuczp4cz0iaHR0cDovL3d3dy53My5vcmcvMjAwMS9YTUxTY2hlbWEiIHhtbG5zOnhzaT0iaHR0cDovL3d3dy53My5vcmcvMjAwMS9YTUxTY2hlbWEtaW5zdGFuY2UiIHhzaTp0eXBlPSJ4czpzdHJpbmciLz48L3NhbWw6QXR0cmlidXRlPjxzYW1sOkF0dHJpYnV0ZSBOYW1lPSJ1c2VybmFtZSIgTmFtZUZvcm1hdD0idXJuOm9hc2lzOm5hbWVzOnRjOlNBTUw6Mi4wOmF0dHJuYW1lLWZvcm1hdDpiYXNpYyI+PHNhbWw6QXR0cmlidXRlVmFsdWUgeG1sbnM6eHM9Imh0dHA6Ly93d3cudzMub3JnLzIwMDEvWE1MU2NoZW1hIiB4bWxuczp4c2k9Imh0dHA6Ly93d3cudzMub3JnLzIwMDEvWE1MU2NoZW1hLWluc3RhbmNlIiB4c2k6dHlwZT0ieHM6c3RyaW5nIj55ZXp1d2VpQGF1dGhpbmcuY248L3NhbWw6QXR0cmlidXRlVmFsdWU+PC9zYW1sOkF0dHJpYnV0ZT48c2FtbDpBdHRyaWJ1dGUgTmFtZT0icGhvbmUiIE5hbWVGb3JtYXQ9InVybjpvYXNpczpuYW1lczp0YzpTQU1MOjIuMDphdHRybmFtZS1mb3JtYXQ6YmFzaWMiPjxzYW1sOkF0dHJpYnV0ZVZhbHVlIHhtbG5zOnhzPSJodHRwOi8vd3d3LnczLm9yZy8yMDAxL1hNTFNjaGVtYSIgeG1sbnM6eHNpPSJodHRwOi8vd3d3LnczLm9yZy8yMDAxL1hNTFNjaGVtYS1pbnN0YW5jZSIgeHNpOnR5cGU9InhzOnN0cmluZyI+bnVsbDwvc2FtbDpBdHRyaWJ1dGVWYWx1ZT48L3NhbWw6QXR0cmlidXRlPjwvc2FtbDpBdHRyaWJ1dGVTdGF0ZW1lbnQ+PC9zYW1sOkFzc2VydGlvbj4KPC9zYW1scDpSZXNwb25zZT4=

base64 decode + inflate 解码 (opens new window)后
<

samlp:

Response
	

xmlns:

samlp

=

"

urn:oasis:names:tc:SAML:2.0:protocol

"


	

xmlns:

saml

=

"

urn:oasis:names:tc:SAML:2.0:assertion

"

 

ID

=

"

_62b177c1-a919-42f6-9586-47f13b71081f

"

 

Version

=

"

2.0

"

 

IssueInstant

=

"

2020-09-28T13:30:31.788Z

"

 

Destination

=

"

https://signin.aliyun.com/saml/SSO

"

 

InResponseTo

=

"

a49f8edi31cj0a2a459g0331c3d9c10

"

>


	

<

saml:

Issuer

>

https://20nqulvoqpbp.authing.cn

</

saml:

Issuer

>


	

<

samlp:

Status

>


		

<

samlp:

StatusCode 

Value

=

"

urn:oasis:names:tc:SAML:2.0:status:Success

"

/>


	

</

samlp:

Status

>


	

<

saml:

Assertion
		

xmlns:

xsi

=

"

http://www.w3.org/2001/XMLSchema-instance

"


		

xmlns:

xs

=

"

http://www.w3.org/2001/XMLSchema

"


		

xmlns:

saml

=

"

urn:oasis:names:tc:SAML:2.0:assertion

"

 

ID

=

"

_fae95b47-cbf3-4a20-add0-99d856b4124e

"

 

Version

=

"

2.0

"

 

IssueInstant

=

"

2020-09-28T13:30:31.788Z

"

>


		

<

saml:

Issuer

>

https://20nqulvoqpbp.authing.cn

</

saml:

Issuer

>


		

<

ds:

Signature
			

xmlns:

ds

=

"

http://www.w3.org/2000/09/xmldsig#

"

>


			

<

ds:

SignedInfo

>


				

<

ds:

CanonicalizationMethod 

Algorithm

=

"

http://www.w3.org/2001/10/xml-exc-c14n#

"

/>


				

<

ds:

SignatureMethod 

Algorithm

=

"

http://www.w3.org/2000/09/xmldsig#rsa-sha1

"

/>


				

<

ds:

Reference 

URI

=

"

#_fae95b47-cbf3-4a20-add0-99d856b4124e

"

>


					

<

ds:

Transforms

>


						

<

ds:

Transform 

Algorithm

=

"

http://www.w3.org/2000/09/xmldsig#enveloped-signature

"

/>


						

<

ds:

Transform 

Algorithm

=

"

http://www.w3.org/2001/10/xml-exc-c14n#

"

/>


					

</

ds:

Transforms

>


					

<

ds:

DigestMethod 

Algorithm

=

"

http://www.w3.org/2000/09/xmldsig#sha1

"

/>


					

<

ds:

DigestValue

>

/ol6lC1j+smdonl48+lJTzUeqnw=

</

ds:

DigestValue

>


				

</

ds:

Reference

>


			

</

ds:

SignedInfo

>


			

<

ds:

SignatureValue

>

awzcE0dp8BzTW4b4PFaRX7NKOC95bLqOnPeAKI/CsDfGaJdmzCK0fVliz+e6XzBluKfBpQtrQonKl7k2vVNaPFx9PpSVzwK91HLGvYQ0qB36uA4HFvm/3M31DL3ZRFPRq68ZaVAG6lMVd0YbiInVv9FWwsi+6jEpF+PRlmkoqAI=

</

ds:

SignatureValue

>


			

<

ds:

KeyInfo

>


				

<

ds:

X509Data

>


					

<

ds:

X509Certificate

>

MIICQjCCAaugAwIBAgIBADANBgkqhkiG9w0BAQ0FADA+MQswCQYDVQQGEwJ1czESMBAGA1UECAwJ5LqL5a6e5LiKMQwwCgYDVQQKDANzc3MxDTALBgNVBAMMBHNzc3MwHhcNMjAwMTAzMTMxODE0WhcNMjEwMTAyMTMxODE0WjA+MQswCQYDVQQGEwJ1czESMBAGA1UECAwJ5LqL5a6e5LiKMQwwCgYDVQQKDANzc3MxDTALBgNVBAMMBHNzc3MwgZ8wDQYJKoZIhvcNAQEBBQADgY0AMIGJAoGBAMNWlMk4L+TcWwyd9plTPLhHL/UMCPGJgv5Vp8vaAp4WMsGtwOLI1UNWccIqMeU0KasJqrKxHYvq9JzZh4fftFmowBz36vz0eIUsP5PKvFULkC1vjrdn+QJXbJ51alZZKfPgl1HI8w6lh12aWTjaKQ+KemIttqLqJgLWOYAXPIszAgMBAAGjUDBOMB0GA1UdDgQWBBTT104hVYVnPpg7aFrDiXPShbtxUTAfBgNVHSMEGDAWgBTT104hVYVnPpg7aFrDiXPShbtxUTAMBgNVHRMEBTADAQH/MA0GCSqGSIb3DQEBDQUAA4GBAB6+1xK7GMJa5M6Ujg/wd4Etwy8NdTF6ypSqN36Bd5OdPmwU9HzDuGjKi3ZwooPIGRB8piLsKk11M4IhAF4C2R/JsvVYwWOYgojW4H1hR5wk2jn7pltWqRPdfZBl0YfsDysUP7k8/MchOWX7WifNxpe3GdSKN17CkdRjL924bV0l

</

ds:

X509Certificate

>


				

</

ds:

X509Data

>


			

</

ds:

KeyInfo

>


		

</

ds:

Signature

>


		

<

saml:

Subject

>


			

<

saml:

NameID 

Format

=

"

urn:oasis:names:tc:SAML:1.1:nameid-format:unspecified

"

>

yezuwei@authing.onaliyun.com

</

saml:

NameID

>


			

<

saml:

SubjectConfirmation 

Method

=

"

urn:oasis:names:tc:SAML:2.0:cm:bearer

"

>


				

<

saml:

SubjectConfirmationData 

NotOnOrAfter

=

"

2020-09-28T14:30:31.788Z

"

 

Recipient

=

"

https://signin.aliyun.com/saml/SSO

"

 

InResponseTo

=

"

a49f8edi31cj0a2a459g0331c3d9c10

"

/>


			

</

saml:

SubjectConfirmation

>


		

</

saml:

Subject

>


		

<

saml:

Conditions 

NotBefore

=

"

2020-09-28T13:30:31.788Z

"

 

NotOnOrAfter

=

"

2020-09-28T14:30:31.788Z

"

>


			

<

saml:

AudienceRestriction

>


				

<

saml:

Audience

>

https://signin.aliyun.com/1374669376572425/saml/SSO

</

saml:

Audience

>


			

</

saml:

AudienceRestriction

>


		

</

saml:

Conditions

>


		

<

saml:

AuthnStatement 

AuthnInstant

=

"

2020-09-28T13:30:31.888Z

"

 

SessionIndex

=

"

ooeumcq6eHjddr1H3Fyzou7Cs-OGTsNl

"

>


			

<

saml:

AuthnContext

>


				

<

saml:

AuthnContextClassRef

>

urn:oasis:names:tc:SAML:2.0:ac:classes:unspecified

</

saml:

AuthnContextClassRef

>


			

</

saml:

AuthnContext

>


		

</

saml:

AuthnStatement

>


		

<

saml:

AttributeStatement

>


			

<

saml:

Attribute 

Name

=

"

email

"

 

NameFormat

=

"

urn:oasis:names:tc:SAML:2.0:attrname-format:basic

"

>


				

<

saml:

AttributeValue
					

xmlns:

xs

=

"

http://www.w3.org/2001/XMLSchema

"


					

xmlns:

xsi

=

"

http://www.w3.org/2001/XMLSchema-instance

"

 

xsi:

type

=

"

xs:string

"

>

yezuwei@authing.cn
				

</

saml:

AttributeValue

>


			

</

saml:

Attribute

>


			

<

saml:

Attribute 

Name

=

"

name

"

 

NameFormat

=

"

urn:oasis:names:tc:SAML:2.0:attrname-format:basic

"

>


				

<

saml:

AttributeValue
					

xmlns:

xs

=

"

http://www.w3.org/2001/XMLSchema

"


					

xmlns:

xsi

=

"

http://www.w3.org/2001/XMLSchema-instance

"

 

xsi:

type

=

"

xs:string

"

/>


				

</

saml:

Attribute

>


				

<

saml:

Attribute 

Name

=

"

username

"

 

NameFormat

=

"

urn:oasis:names:tc:SAML:2.0:attrname-format:basic

"

>


					

<

saml:

AttributeValue
						

xmlns:

xs

=

"

http://www.w3.org/2001/XMLSchema

"


						

xmlns:

xsi

=

"

http://www.w3.org/2001/XMLSchema-instance

"

 

xsi:

type

=

"

xs:string

"

>

yezuwei@authing.cn
					

</

saml:

AttributeValue

>


				

</

saml:

Attribute

>


				

<

saml:

Attribute 

Name

=

"

phone

"

 

NameFormat

=

"

urn:oasis:names:tc:SAML:2.0:attrname-format:basic

"

>


					

<

saml:

AttributeValue
						

xmlns:

xs

=

"

http://www.w3.org/2001/XMLSchema

"


						

xmlns:

xsi

=

"

http://www.w3.org/2001/XMLSchema-instance

"

 

xsi:

type

=

"

xs:string

"

>

null
					

</

saml:

AttributeValue

>


				

</

saml:

Attribute

>


			

</

saml:

AttributeStatement

>


		

</

saml:

Assertion

>


	

</

samlp:

Response

>



这段内容就是用户的身份断言,也就是用户的 Token,只不过这个 Token 通过 XML 格式传递。
读到这里,你可能会对 SP、IdP 如何处理这些冗长的 XML 信息感到困惑。Authing 会解决这些繁琐的处理,而你只需关注如何正确地配置 Authing IdP,与 SAML SP 进行通信。
# 接下来你可能还需要
Open the application SAML Identity Provider function